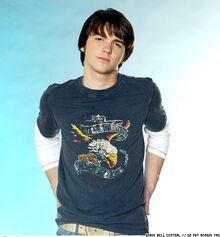 Jared Drake Bell (born June 27, 1986) is an American actor, voice actor and musician.
He tied with his co-star Amanda Bynes in appearing in every single episode of the show where he played various roles.
When the show ended in 2002, Drake starred alongside another one of his co-stars Josh Peck in their own Series Drake and Josh which also featured another one of their co-stars Nancy Sullivan from 2004-2007.
Drake has a band called Drake 24/7 where he played many songs including "I Found A Way" which became the theme for "Drake and Josh" and released albums including Telegraph and It's Only Time. He was also the voice of Spider-Man/Peter Parker in the television series Ultimate Spider-Man.