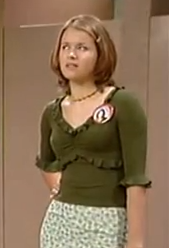 Danielle Spencer
is a character that appears in The Girls' Room segments appearing usually when a big event is occuring. She is Amber's rival and Amber, Tammy, and
Sheila
do not like her(Debbie does not show hatred towards Danielle and is the only one of the group to refer her by just her first name). She is usually shown wearing dresses or skirts and she appears to be very popular with the school given how in the Prom skit of The Girls' Room she was voted the Prom Queen. Often by the end, she ends up having a misfortune that is usually caused by Sheila (For example, in the Amber's Birthday skit, Sheila took off her expensive dress and gave it to Amber, leaving her in her underwear).
Ad blocker interference detected!
Wikia is a free-to-use site that makes money from advertising. We have a modified experience for viewers using ad blockers

Wikia is not accessible if you've made further modifications. Remove the custom ad blocker rule(s) and the page will load as expected.