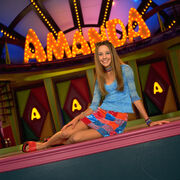 Amanda Laura Bynes (born April 3, 1986) is an American former actress, singer, model and fashion designer. After appearing in commercials and in plays, Bynes rose to prominence as a child star in the late 1990s and early 2000s on the Nickelodeon series All That and The Amanda Show. From 2002 to 2006, she starred in the sitcom What I Like About You on The WB. She has also starred in several films, including Big Fat Liar (2002), What a Girl Wants (2003), She's the Man (2006), Hairspray (2007), Sydney White (2007), and Easy A (2010). She also modelled for a few magazines including "Maxim". In 2012, Bynes announced that she was retiring from acting due to personal problems. Now she has decided to make a comeback at sometime in 2018.
Amanda's best known sketch in "All That" is "Ask Ashley" where she plays a sweet but ill-tempered girl who answers letters.
Amanda's favorite food is Ravioli (stuffed with meat). Later, while Penelope is trying to win a contest by answering "What is Amanda's favorite food?" she says it is quesadillas.
Amanda's blood type is B+.
Amanda owns 37 pairs of pants.
Amanda's favorite body part is the uvula.
Amanda's favorite band instrument is the oboe.
Amanda's favorite soup is clam chowder.
Amanda's favorite Soviet leader is Gorbachev.
Amanda's favorite big toe is named Merv
Amanda goes from 12 to 15 in the Amanda Show.